I am fascinated by the art of wedding photography and have seen it transform from very formal and super staged – as in very often: "OK, grandma standing over there" – so that a photographer takes a more casual or natural approach. John Dolan's style approaches wedding photography from the perspective of an involved documentary maker interested in the emotional experience.
As the introduction to John's new book states, "Marriage is one of the most recent and enduring ceremonies in society, universal in its presence, complete in its emotion."
I have never photographed a wedding. I imagine a world of serious pressure and angst as a photographer "has to" capture the essence of someone's most personal experience. To go further, I would add the anxiety of making sure I have recorded all the tips. In the digital age, which should solve this problem, John is still shooting on film. And as he says below, he has confidence in himself and his skills.
From John's Amazon Book Page Biography:
John Dolan is a pioneer in contemporary wedding photography. For over 30 years, he redefined the genre, blending the honesty of documentary with the grace and beauty of a fashion photographer. Her photos featured prominently in the inaugural issue of Martha Stewart Weddings in 1995. Her wedding clients include art directors and magazine editors, as well as celebrities Will Smith, Rosanne Cash, Ben Stiller, Kate Bosworth, Bridget Moynahan and, most recently, Gwyneth Paltrow. .
John is about to publish his new book The perfect imperfect. Wedding photographs. Details of the purchase follow this interview.
Peter Levitan: I have to start with what I will call the most obvious question. How do you become a celebrity photographer? Was it luck or marketing – or both?
John Dolan: I wouldn't describe myself as a celebrity photographer. I am hired by people who love photography (some of them are well known). I see myself as the opposite of a paparazzi. I film things as they happen, I don't impose myself on the subject. A celebrity told me that she only has two types of photos of her family: iPhone photos and paparazzi photos. They needed a photographer they could trust.
Are celebrities looking for a different result than, well, let's call them regular people? Is there an element of PR that a celebrity is looking for?
Much of the work I do for celebrities never shows. It's for them, not their publicist. They hire me to photograph them as they are instead of being seen by the public. I generally shoot solo, without overproducing the images.
How did you get started in wedding photography? And why did you specialize in weddings?
My goal when I started in New York in the 90s was to be an editorial photographer. Along the way, I ended up getting hired by art directors and photo editors who didn't want a wedding photographer. They just wanted me to come to their wedding and film it as a story.
What planning role do you play? Do you act like a director or are you an observer – or to put it another way, a photojournalist?
I come to a marriage without a plan, intentionally. My magazine job taught me to feel the flow of a wedding and know when to be invisible and when to play jester. I can fight over a group photo when needed but I am also sensitive to the psyche of a couple under the pressure of a marriage and I try not to coerce them. I get my photos between times without directing. Some photographers are directors. I am a collector.
What kind of conversations do you have with the couple to determine their expectations before the big day?
It's all about trust. I tell them that I have no expectations of them to model or pose, rather I want to feel what they feel and embrace that. I specify that it is about their marriage and not about me.
I am fascinated by the ritual of marriage. Do you see a cohesive arc, as you call it dramatic?
The arc goes from nervous preparation to ecstatic celebration, with everything in between. There is a wide range of emotions that are overlooked in traditional wedding photography. I think it's a mixture of salt and sweet. You need both to get the full flavor. I see a lot of young clients and photographers taking this approach.
You define your work as delivering: Beauty; Truth and Bliss. What are the key elements of each of them?
This is the variety of moments that I have observed over the years. Beauty is everywhere, but the moments of truth can be subtle and surprising and easy to miss. The reality of the solemnity of the ritual strikes people, often when they least expect it. Happiness comes as a feeling of relief when the marriage peaks. There is a sense of accomplishment towards the end of a marriage, on the dance floor, or in a quiet moment.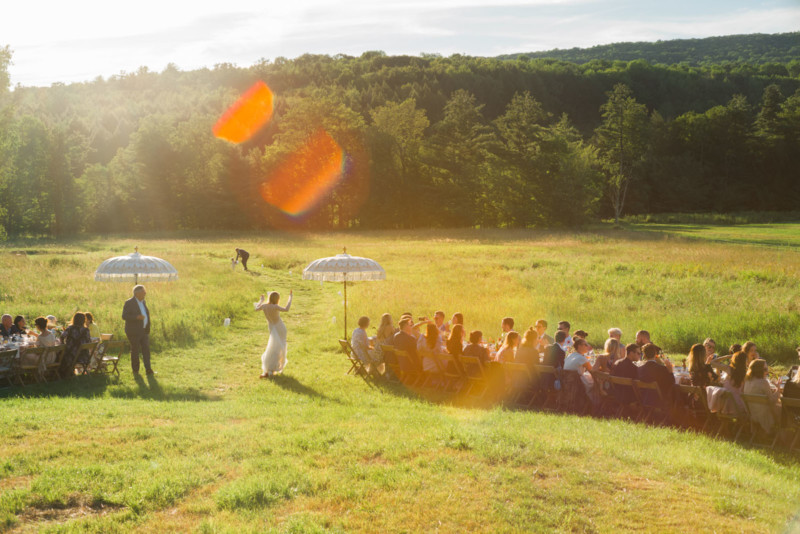 Do you have a personal style? When I look at your work I see that you are really thinking about light (mostly natural light), using motion, and pulling around the edges. Is this a fair assessment?
Light certainly inspires me, but I think my work is defined by my intimate connection with my subjects. I photograph the inside of a wedding, almost as if I were a cousin. I feel the flow of the day and use that feeling to tell me how to photograph. There is movement when things get chaotic, not out of cunning but because it's my only choice. I can't just hit pause at a wedding and rearrange everything. I take pictures of how I felt that day, not what it looked like.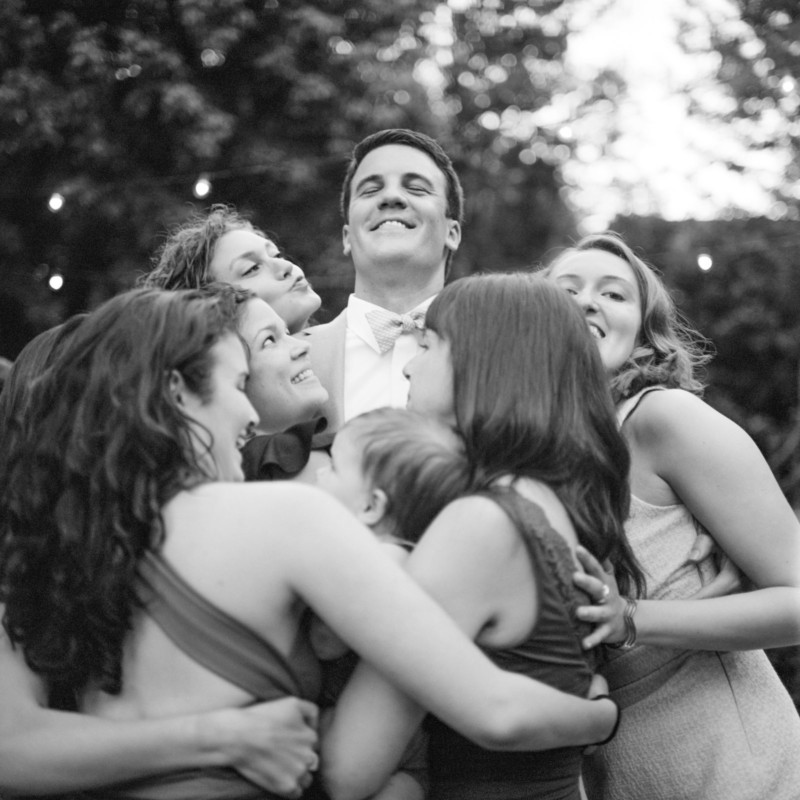 How do you make sure you get the right shots? Are you already working with a second shooter?
My clients expect me not to play it safe. They encourage me to make art, not to follow a checklist of expected images.
I love shooting solo. It allows me to stay more involved with the couple. For weddings over 250, clients sometimes ask me to bring a second.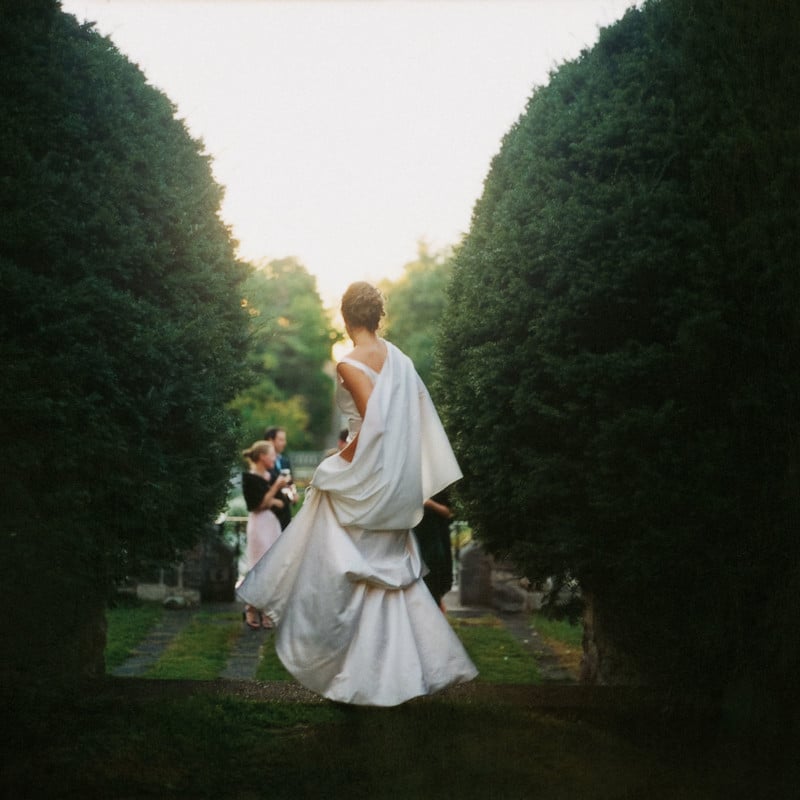 Since a wedding is a very important one-off event, how do you make sure you've taken it and can guarantee that you have the files in a safe place? Are you more confident that you are digital than when you are filming?
I still shoot 70% of the film. Cinema taught me to have confidence in myself and in my laboratory. My philosophy is this: marriages are too important to play it safe. As you say, this is a one-time event. To make art, you have to take risks. I turn risk into adrenaline to fuel my creativity.
What type of photo equipment do you use? I heard you mix your formats.
I use Leica, Rollieflex and Holga.
You just published the new book THE Perfect Imperfect on your wedding photography trip. Give us some background on why and how to publish what seems like a lifetime's work?
This book is a 30-year tour of the emotional landscape of weddings. The imperfect, the unforeseen, the unexpected, these are the moments that seem more real to me than the perfect moments that are staged and controlled.
My hope is to open the door to a wide range of approaches to photographing at weddings. Each marriage follows a similar scenario, but each is a unique study of human nature under pressure. There are so many stories for curious photographers to discover.
---
The perfect imperfect. Wedding photographs is available from the publisher and on Amazon. It spans 268 pages, weighs 2.5 pounds, and costs $ 90. A limited number of signed copies are also available on Dolan's website.
---
About the Author: Peter Levitan started his life as a professional photographer in San Francisco. He embarked on a career as a global start-up in advertising and the Internet. Peter photographs people around the world using a portable studio. It's his excuse to travel and meet people.
---
Image credits: All photographs by John Dolan and used with permission