As of today, only 100 guests will be allowed to attend the wedding receptions.
This is part of the new Covid-19 restrictions announced on Friday.
This means that couples who are getting married in the next six weeks and have invited more than 100 guests are faced with tough choices.
Gavin Callaghan and Emma Blint are among these couples.
They are due to get married at Adare Manor in Co Limerick on New Years Eve.
They live in Basildon in Essex, England, but both have family in Ireland.
"On my fathers side [I have family] from Sligo, and my mom's side they're from Mullingar, and Emma's side is from Foxford, so when we thought about where to get married, it made sense to go to Ireland, "said Mr. Callaghan.
As of today, only 100 guests will be allowed to attend the wedding receptions. This means that some couples who are due to get married in the coming weeks will have to make difficult choices | Read more: https://t.co/SjiemV9WBR pic.twitter.com/WOQvW4MPYM

– RTÉ News (@rtenews) 20 December 2021
They have invited 125 guests to their wedding, many of whom are from England, and they were surprised by Friday's announcement.
"People have booked their flights, booked their PCR tests, their accommodation, everyone is playing by the rules and having a quiet Christmas, waiting for the wedding," said Ms Blint.
As they plan to cut their guests by around 20%, the couple fear those who have already paid for flights and accommodation will lose financially.
"Because the trips will not be restricted, they will not receive any reimbursement from the insurance companies, so they will lose that money," Mr. Callaghan said.
They are also frustrated with the lack of details available on the new rules.
"We were trying to clarify yesterday if children are counted in this number and no one really seemed to know because there [the announcement] is done at six o'clock on a Friday night, then everyone goes home until Monday, and you're just left in this purgatory, "Callaghan said.
The couple have been planning their wedding for three years and have already postponed it once before.
They say they always knew "Covid was going to be part of our marriage history," and that they understood and shared their concerns about an upsurge in cases and the Omicron variant.
"We can understand logical policy making and we can fully understand PCR testing, and wanting our guests to have daily antigen testing, it all makes sense," Callaghan said, adding that all of their guests adults are "triple bitten".
However, the couple described as "illogical" that a limit be placed on the numbers that can attend a wedding reception and not a wedding service for example.
"You can have, we think, as many people as you want packed into a small church for the ceremony, but 20 minutes later you can't have the same number of people walking into a huge ballroom with a better ventilation and more social distancing, "Mr. Callaghan said.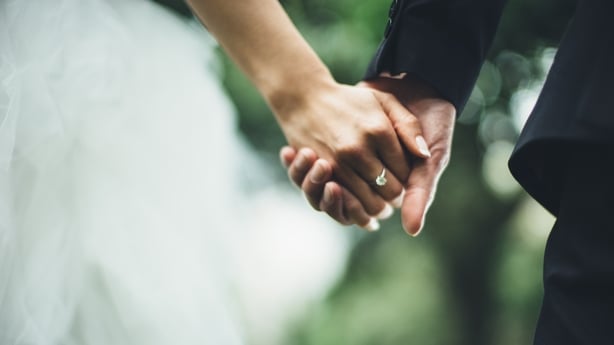 Editor of the One Fab Day wedding website Celina Murphy has spent the weekend answering calls from many couples with similar complaints and queries.
"The couples seem desperate enough by the minute to keep their current number of guests," Ms. Murphy said.
"We had a lot of questions about the technical start of the reception… we were also asked several times if children were exempt from the 100 cap, which unfortunately is not the case," she added. .
"Removing 50 or 150 guests from your wedding with a few days' notice is so tricky… some couples literally had 42 hours to do it," Ms. Murphy said.
"Many guests will have booked their annual vacation, accommodations, and babysitters for the wedding well in advance, so that's not the minor inconvenience that it may seem like."
---
Latest news on the coronavirus
---
Gavin and Emma are still hoping the government will "pull the plug."
So far, the couple have failed to bring themselves to sort their guest list.
"At some point, today or tomorrow, we will have to start making some very difficult phone calls and texts and trusting God for the understanding of our friends and family," Mr. Callaghan said.
fbq('init', '513914798814299');
fbq('init', '532150710329020');
fbq('init', '1055413517874698');
fbq('track', "PageView");

Source link